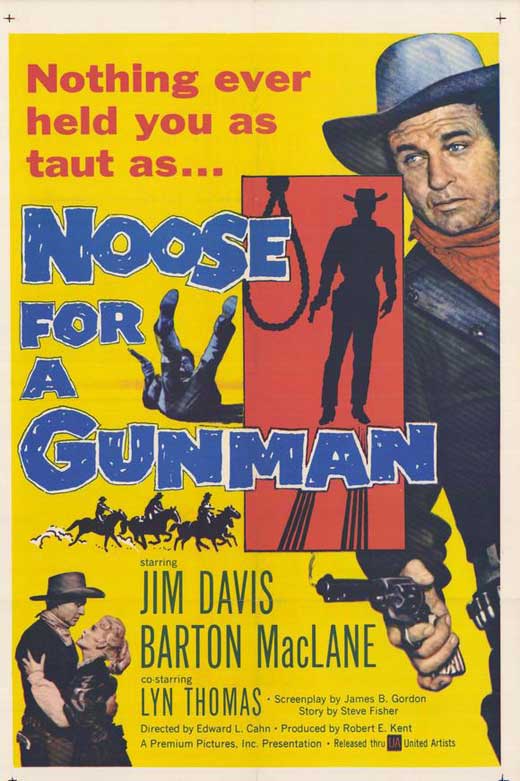 There is something truly special about the days when John Wayne (Rio Bravo) and Clint Eastwood (Rawhide) were gracing the screen, defending (or in some cases, tearing up,) the old west… Don't get me wrong… I have seen some truly awesome modern day western movies… But there is just something truly spectacular about these old time western movies!
Maybe it is because they were made during a time when a lot of the original cowboys were starting to die out in droves, and thus some of the writers may have gotten inspiration from them… Maybe because it was in the golden age of movies in general… When the acting was not just great… But a cut above the rest… When special effects were just starting to play a major role in films… And the directing… Forget about it!
Either way, these movie are a blast, and are definitely worth checking out if you are a fan, or even if you are looking for a new genre to enjoy… And: Noose For A Gunman (1960) is just as good as the best of them!
Written by: Robert E. Kent (Where The Sidewalk Ends), Steve Fisher (Dead Reckoning) & Directed by: Edward L. Cahn (Zombies Of Mora Tau). Starring: Jim Davis (The Day Time Ended), Ted de Corsia (20,000 Leagues Under The Sea), Barton MacLane (The Maltese Falcon), Walter Sande (Gunsmoke), Leo Gordon (Attack Of The Giant Leeches), Jan Arvan (20 Million Miles To Earth) & Lyn Thomas (Space Master X-7).
"Only a Hated Top Gun Can Save a Town At the Mercy of Cantrell's Raiders!" – The tagline from: Noose For A Gunman (1960)!
And boy how true is it! I mean this movie is an awesome story of redemption… You see, in the old west, there is a small town where one man is hated most of all.. You see, decades earlier this man had killed the sons of the richest man in town, and after leaving, he became so hated that a noose fit for hanging him was hung up with the intention of being used if he ever show up in town again… The man is Case Britton (Davis)!
Well after being gone for so many years, he ends up being forced to come back to town and warn the people who hate him as much as they do, that they are about to be attacked by Jack Cantrell (de Corsia) and his gang!
Now his reasons may not be altruistic, but so is the towns most richest man, and he remembers what happened to his sons! Was it a good idea for Case to return? Or is it better to have left the town to it's fate? With his fiancee coming to town… That goes without saying!
You guys might be wondering why this movie is so awesome… Well besides what is mentioned above, this movie for me, was just how great this story was… What I mean is that this story is a great redemption story, and I have found that I just truly enjoy these types of stories!
So if you haven't seen this movie yet, check it out, it is more then well worth it!