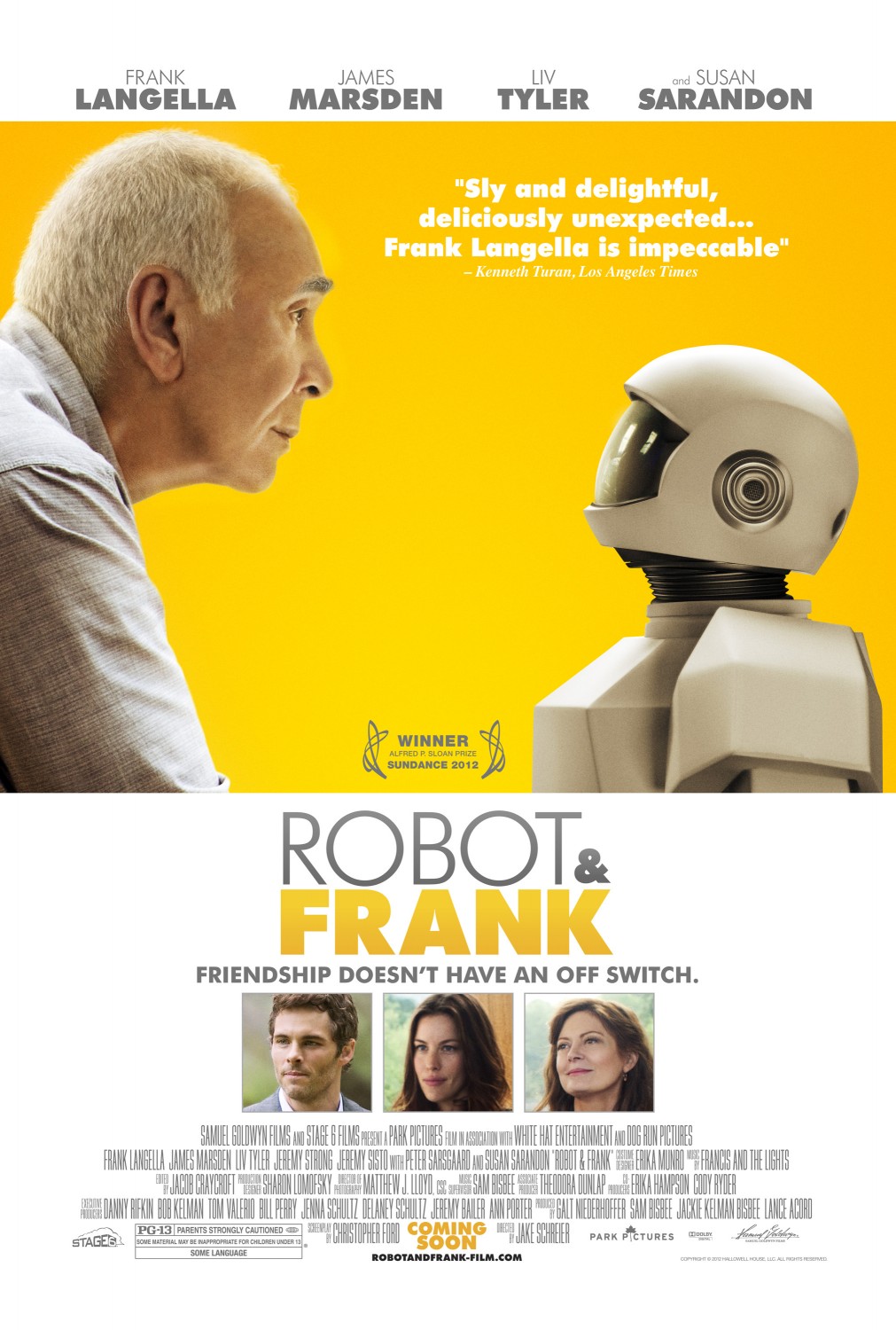 Frank Langella (Dracula), one for one, everything I have ever seen this guy do, he has always just had a commanding presence, and the fact is, is that presence and that level of command of the craft is so amazing and spellbinding, that no matter what role he has played, (that I have seen him in anyway,) he has just absolutely made the role a powerful performance, and in my opinion, the movie is better just by the fact that he was in it!
So it was so surprising to me that he would have created the same level of awesomeness when playing the more subdued role of, 'Frank Weld' in, Robot & Frank (2012)!
Written by: Christopher D. Ford (The Fuzz) & Directed by: Jake Schreier (Alpha House). Starring: Frank Langella, James Marsden (Disturbing Behavior), Liv Tyler (Empire Records), Susan Sarandon (The Client), Peter Sarsgaard (Orphan), Jeremy Strong (Lincoln),  Jeremy Sisto (May) & Rachel Ma (Smash).
This fun little indie Sci-fi/Crime/Drama tells the story of, 'Frank' (Langella) who is an ex-thief who due to old age is headed toward dementia and incapability to take care of himself…
His daughter, 'Madison' (Tyler) is an activist that seems to mostly be traveling around helping out, 'Turkmenistan', and his son, 'Hunter' (Marsden) lives  several hours away, but does seem to like to travel up to visit him a lot, and to make sure he is doing well, but really his only other companion is a librarian by the name of, 'Jennifer' (Sarandon), who talks with him a bit, but mostly lends him books from her library.
The problem with all of this, is that Frank is starting to become real forgetful, and is starting to require some form of assisted living… Hunter's solution… (since the time line of this movie is set in the future), Hunter decides to get him a servant robot, who can essentially take care of him.
At first though, Frank hates the damn thing, but as he begins to realize the potential to feel the rush of being a crook again, with the help of his new servant droid, he quickly warms up to the little guy, and in the end, Frank will find this little robot, a friend and a companion that he never thought he would ever need or want!
In the end, this movie… considering the fact that it is a fascinating Sci-fi look at a sort of chick flick (Believe it or not though… This movie is one that I think both guys and girls would both mutually and individually enjoy), I also found that for indie film, that this movie drew some amazing talent to the movie, including: James Marsden, Liv Tyler, Susan Sarandon, Frank Langella & Jeremy Sisto!
Besides the cast though, the other thing that I really thought made this movie so good was the story… I mean, it may not be an action extravaganza, a CGI wreck, or a gorefest… But every once in a while I kind of feel like it is just fun to watch a movie and come out of it both entertained and a good feeling in your heart!
So check it out… I thought it was good, and hopefully you will as well!