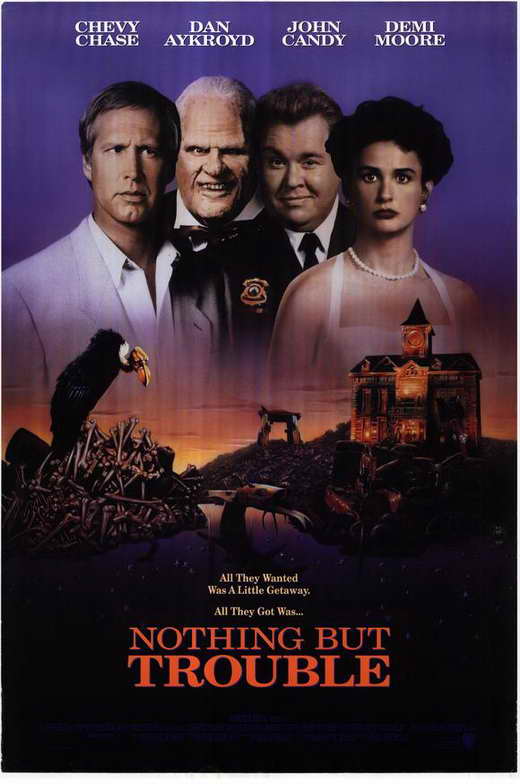 Chevy Chase (Funny Farm)… What can I say about this guy that hasn't already been said, I mean this guy is an amazingly powerful actor, and as a comedian, he came out of the generations when a lot of Hollywood's most talented funny men and women in both the big screen and the small screen were coming out of the, 'Not Ready For Prime Time Players', that came out of what some would consider to be the golden years of Saturday Night Live (The first 5 years or so of the series long run.)
But there was one movie, and since I have been watching horror movies, I have wondered why this is, but there is a Comedy/Horror that Chevy did with Demi Moore (St. Elmo's Fire), Dan Aykroyd (Ghostbusters), John Candy (Uncle Buck), Taylor Negron (The Last Boy Scout) & Bertila Damas (Fires Within) called, Nothing But Trouble (1991)…
Again in the case of this movie, it is more subjective then truly scary… I mean I think being a kid of about 9 or 10 seeing this movie, I found the, 'Judge' (Played by: Dan Aykroyd) to be more then anything to be some what scary… But that is about it!
You see this movie tells the story of a group of New York High Society types by the name of: Chris Thorne (Chase), Diane Lightson (Moore), Fausto Squiriniszu (Negron) & Renalda Squiriniszu (Damas)… And a trip that they will never forget!
For various reasons these 4 have decided to pile in to Chris's car and take off for a road trip, but as they come in to the city limits of a small scary looking town in the middle of nowhere called, 'Valkenvania' Chris, egged on by everyone else in the car ends up deciding to speed up and skip stopping at a stop sign and get in to a high speed chase with local Sheriff, 'Dennis' (Candy)… After the chase ends though, Chris, thinking that all he was going to get was a speeding ticket, ends up being arrested (along with the rest of his group.)
Once they get to the rundown court house/school that sits in the middle of a junkyard, as well as on top of a volatile mine, everyone is just absolutely stunned by what is going on here… But that is until they go in front of the Judge, 'Reeve' Alvin Valkenheiser (Aykroyd)… the elder and it seems as if, 'Leader' of the only, 'Shire' left in the world…
After making a smart-alecky remark, they are quickly dispatched with…
Afterward, some drug addicts end up being brought in, where in after seeing what is going on with these rude kids… The Reeve sentences them to be destroyed by a roller coaster of death called… 'Mr. Bonestripper'.
In the end, it will be up to Chris & Diane to escape the clutches of this mad family on their own (due to the fact that, 'Dennis' helps Fausto & Renalda escape.) Because due to the fact that Chris is a banker, the only way he is going to escape with out Diane's help is to marry the hideous, 'Eldonia' (Also played by: John Candy)… Chris & Diane are going to have to escape and hope these lunatics can't find them!
In the end, this award nominated movie, which surprisingly was a flop in the box office, is truly a strange movie, but was absolutely hilarious… And if you get a chance, check it out, it maybe scary to kids, but I found it to be absolutely funny as an adult, and if you check it out, you might find it funny as well!