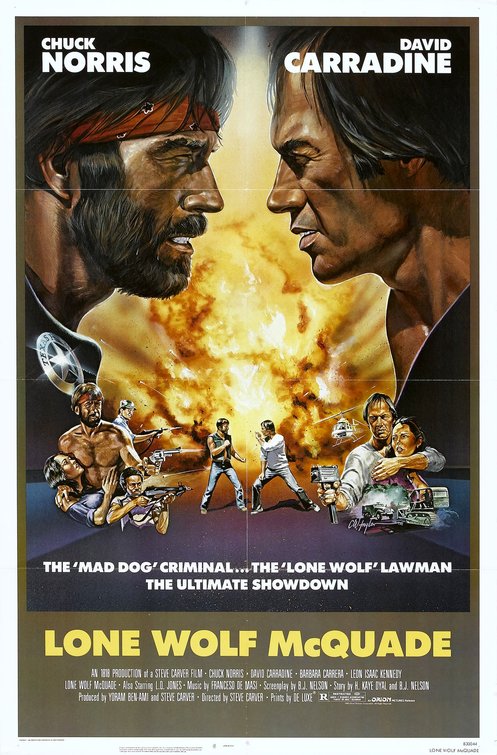 Man, Chuck Norris (Code Of Silence) kicks ass! Rather he is playing Cordell Walker in the smash hit TV series, Walker, Texas Ranger, or kicking ass as, 'Major Scott McCoy' in the classic 80s action movie, 'Delta Force' series, this guy literally kicks ass as a martial artist, who is like a modern day cowboy, with his own code of justice and morality!
Unfortunately though, I haven't seen that many of his movies… A situation that I hope to rectify soon!
Either way, the ones that I have seen have kicked some major ass, and one of the ones that I most recently have seen was of particular note for me… The reason being is that this movie has an amazing cast that I have seen in other movies or TV series that I to this day absolutely loved and still do… Such actors and actresses include: David Carradine (Death Race 2000), Dana Kimmel (Friday The 13th Part 3 3D), Robert Beltran (Star Trek: Voyager), L.Q. Jones (The Wild Bunch), R.G. Armstrong (My Name Is Nobody), these amazing actors and actresses, as well as many others are just one aspect that make, Lone Wolf McQuade such an amazing movie!
You see, this awesome modern times western movie, which was directed by: Steve Carver (An Eye For An Eye) and written by: B.J. Nelson (Dirt Merchant), tells the story of J.J. McQuade (Norris) a sort of modern day cowboy who works for the Texas Rangers, but still works alone, but does his job and does it better then most… But he is a lone wolf, and sort of an embarrassment to his C/O T. Tyler (Armstrong) and is forced to team up with local State Trooper, 'Kayo' (Beltran)… This would end up working well for both of them!
You see the next case that he handles is one that he will ultimately take personally when his daughter, 'Sally' (Kimmel) is hurt one night when she and her boyfriend accidentally comes across a criminal organization as they are currently hijacking a major convoy, and are  caught.
Sally ends up in the hospital and  her boyfriend ends up being murdered… Once Ranger McQuade discovers this, he goes after them with a vengeance, but once the leader of this gun running ring, 'Rawley Wilkes' (Carradine) discovers who it is that is trying to end his career, he will stop at nothing to destroy McQuade and anyone that works with him!
And as the personal war between McQuade and Rawley heats up, McQuade will have to team up with Trooper Kayo, and an FBI Agent by the name of, 'Jackson' (Played by: Leon Isaac Kennedy) to destroy Rawley and his organization before Rawley destroy's McQuade and everyone he cares about!
In the end, this movie truly is a timeless classic, and rather or not you are a fan of Chuck Norris, or anyone of the other actors that are mentioned above, this movie is an amazing great time, and if you get a chance to check  it out,  you might find out the same thing!